The son of a former rural veterinarian in Iowa, Dr. Alan Ross graduated from Iowa State University and began practicing veterinary medicine in 1978. He opened Companion Animal Clinic in Roseburg in 1982. The clinic has been in its current location since 1994. Dr. Ross specializes in treating dogs and cats, and is particularly interested in orthopedics and internal medicine. From his earliest days in practice, Dr. Ross has found it rewarding not only to treat patients, but also to work with their owners to achieve optimal health for their pets. He thrives on the ever-evolving aspects of veterinary medicine. The support and skills of his staff enable him to foresee many positive and productive years ahead at Companion Animal Clinic. He can honestly say he looks forward to going to work every day. He and his wife, Tricia, share their home with two very personable schipperkes – Vixen and Hector. When not at work, Dr. Ross enjoys fishing, traveling, doing yard work with his trusty John Deere tractor and rooting for the Cyclones.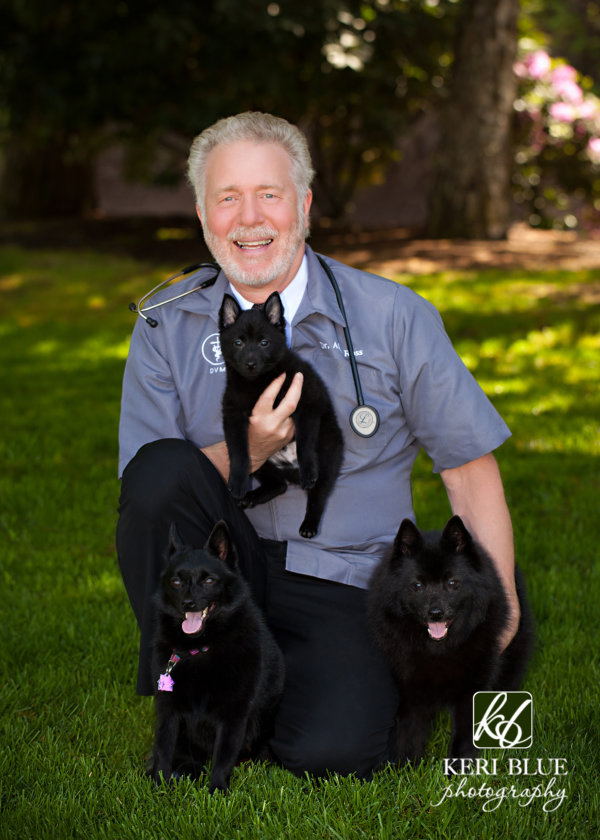 An Oklahoma native, Dr. Holly Slater spent all of her childhood and teen summers on her grandparents' 10,000-acre ranch in Colorado. Her experiences there reinforced a lifelong desire to become a veterinarian.
She achieved that dream after earning her doctorate in veterinary medicine from Oklahoma State University in 2013. Her first post-graduate position was at a clinic in Moab, Utah, where she cared for large and small animals.
Dr. Slater moved to Roseburg in 2015. She's worked at two other veterinary practices since then. She's excited to transfer her skills to our clinic, and eager to join the team in providing compassionate, progressive veterinary care.
In her free time, Dr. Slater loves biking, hiking, climbing and basically any outdoor activity. She and her partner, Dusty, live with three dogs and one cat. Though both spent their early years in Oklahoma, Dr. Slater and Dusty love living in Oregon living – and they plan to make it their forever home.
Dr. Christy Cutting graduated from Oregon State School of Veterinary Medicine in 2002. She is from all of the "O" states: first Ohio, then Oklahoma, and finally to Oregon, which she has called home since 1984. She has wanted to be a veterinarian ever since growing up. After graduating from the University of Oregon in 1990,  she joined the Peace Corps. She first went to Zaire, Africa, and was there for a year working with fish farmers until there was a military coup and she was evacuated. She then went to Paraguay, South America, working first as a Peace Corps volunteer with farmers for two years, then as a volunteer coordinator for another year. After that, she moved to Bolivia, South America, and trained Peace Corps volunteers for service. These experiences reinforced her conviction that veterinarians play a vital role in helping prevent illness in animals in many ways: through vaccinations, through prevention of overpopulation of stray animals, by helping farmers and their livestock and in curing sick pets. She returned to Portland, Oregon, and worked at the Southeast Portland Animal Hospital while working on the prerequisites for veterinary school. It was here that she met Dr. Suzy Hartman. After graduating from OSU in 2002, she moved to Roseburg and has been here every since. 
She has many pets: Boo the heeler mix, two cats Click and Clack, the house goat Bonnie, and three rabbits. When not practicing veterinary medicine, she works on her house and garden projects, goes hiking, and really enjoys a good bitter beer!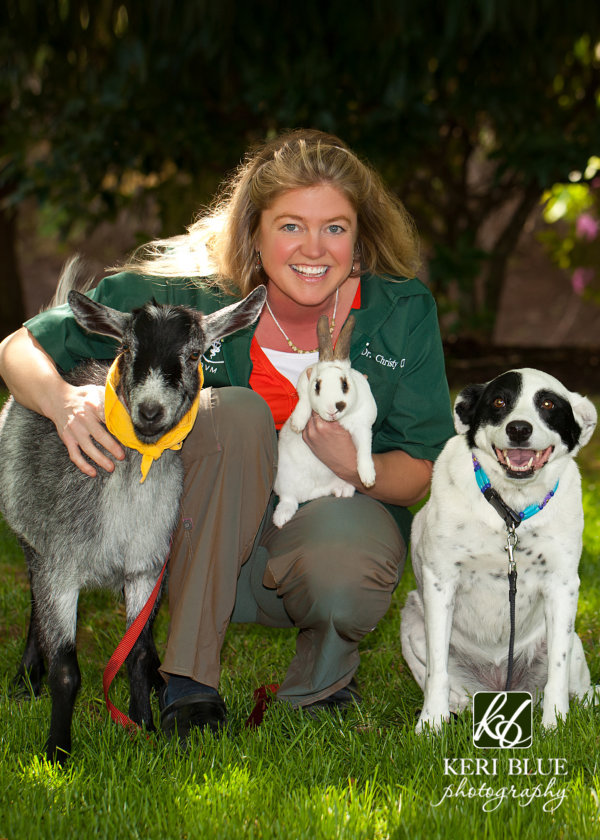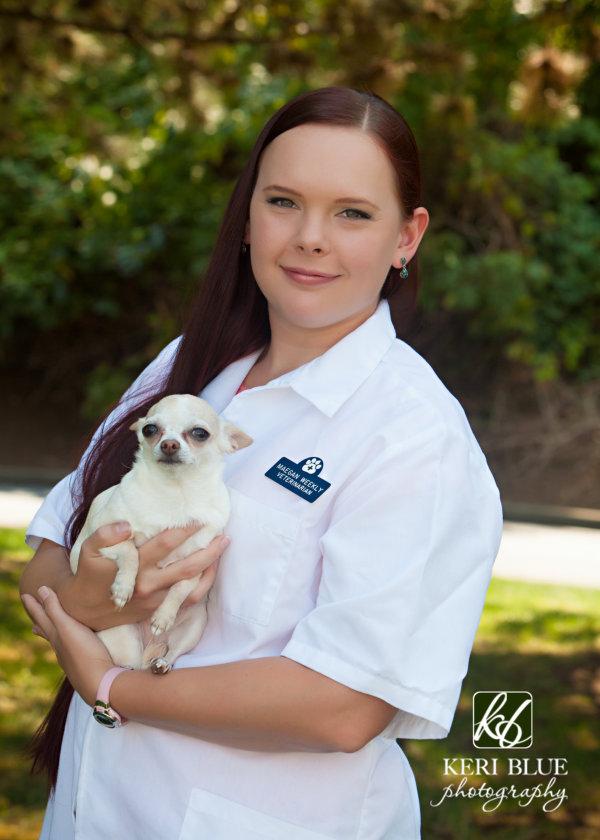 Like so many of our clinic professionals, Dr. Maegan Weekly knew from a young age that her dream career would involve working with animals. She grew up in Oregon City, and that's where she began taking a special interest in life sciences.
Dr. Weekly graduated from Oregon State University in 2005 with a bachelor of science degree in zoology. Four years later, she received her doctorate of veterinary medicine, also from OSU.
She belongs to the Oregon Veterinary Medical Association and to the American Veterinary Medical Association. Dr. Weekly takes a special interest in small animal preventive and internal medicine.
She and her husband, Nick, met as freshmen at OSU during her undergraduate years. He's a Douglas County native who studied civil engineering and is now part-owner in his family's construction business. The couple married after Dr. Weekly's 2005 graduation and lived in Albany while she attended veterinary school. After living in the Salem area for a time, they were able to start the process of permanently settling in Roseburg – a process that began when Dr. Weekly joined the Companion team.
When she's not at the clinic, Dr. Weekly usually can be found at home with her young son and daughter. The household includes an Airedale terrier, Linus, three cats, various fish tanks and multiple houseplants. A never-ending supply of home and garden projects rounds out the family's schedule.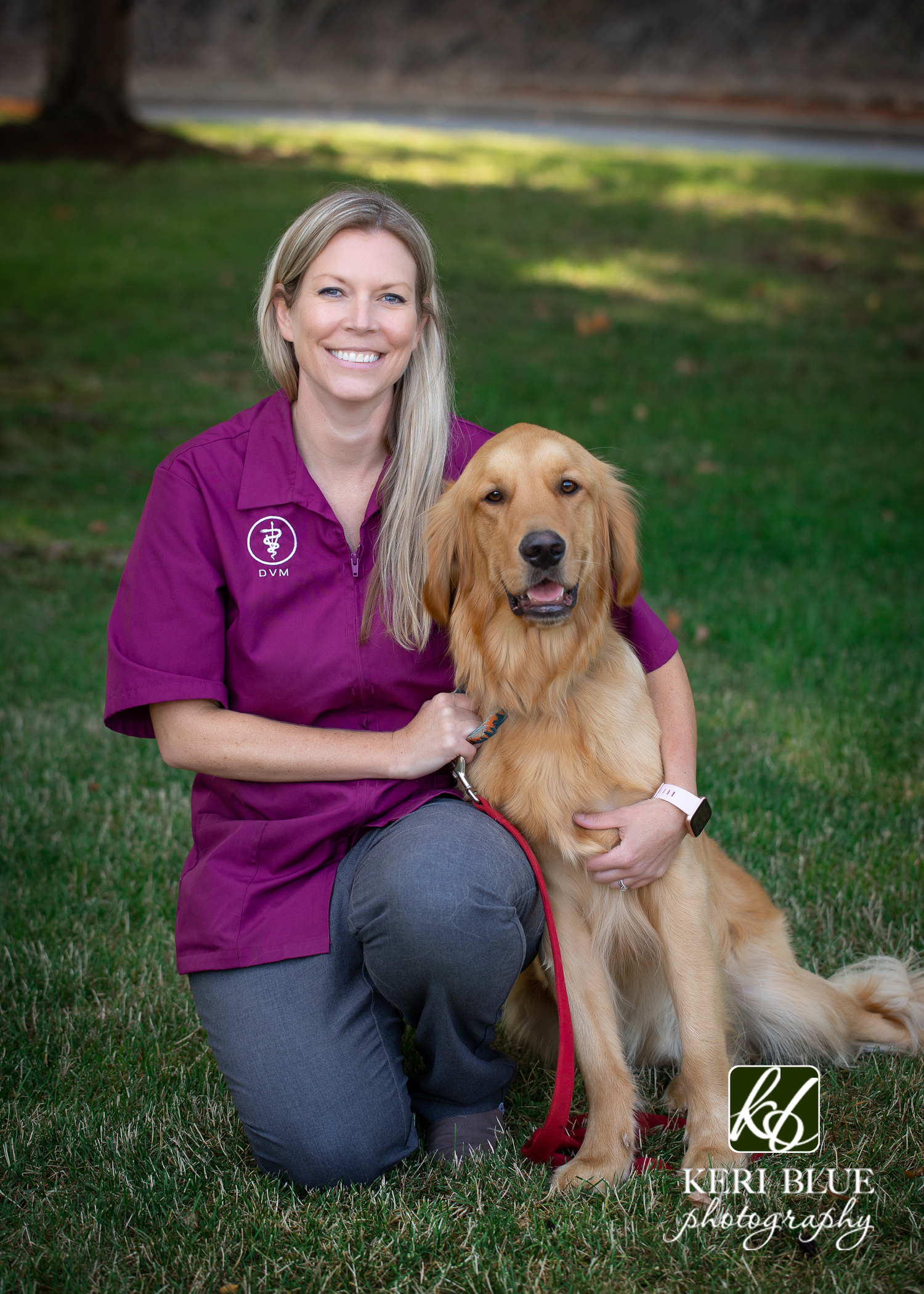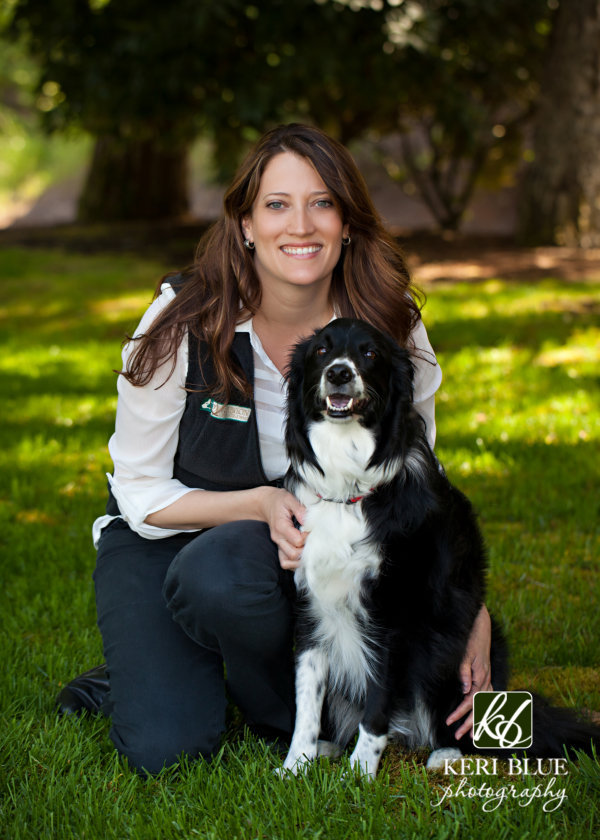 Rasha Van Beek was still in high school when she began working for Companion Animal Clinic in 1992. She started as a kennel attendant, gradually expanding her duties and responsibilities as receptionist, technician, office manager, and ultimately taking her current position as practice manager. She earned her associate of arts in science in 1995 and earned recognition as a certified veterinary practice manager in 2009.
Working with people and animals in the veterinary field is something to which Rasha has aspired since she was a child. She takes pride in being part of what she describes as a wonderful industry and her goals are to keep veterinary standards high and to be a part of a team that delivers quality, compassionate care to pets. Part of that process involves networking with fellow managers around the state, attending seminars, and working closely with clinic clients and staff members.
Rasha enjoys spending time with her son, husband, and family, particularly pursuing outdoor activities. She has a Border Collie, Dakota, Toy Aussie, Percy and a cat named Mamba.
Licensed Veterinary Technician (Lead)
Holly has been with the clinic since April 1994. She has a lab cross named Junie and a maltese cross named Mojo, one cat, Gary, and 18 chickens. When not working, Holly enjoys spending time outdoors with her husband and three boys, going camping, swimming, and gardening.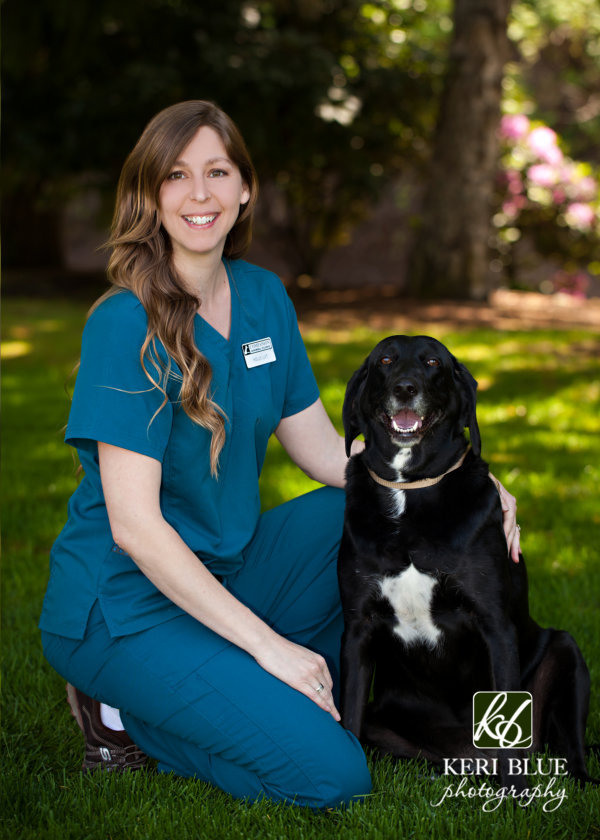 Certified Veterinary Technician
Andrea has known from a very young age that she wanted to work with animals. In 2006, she got her first job in a veterinary clinic, cleaning kennels. From there she worked her way up and became a certified veterinary technician. She joined us here at Companion in the fall of 2017. She lives with her husband and two daughters on a small farm with horses, goats, tortoises, cats and dogs. Her daughters are showing they have the same animal passion as their mama, which is good news for the home menagerie. When not at work, Andrea enjoys spending time with family, riding horses, gardening and loving on all their animals.
Certified Veterinary Technician
Candy brought 38 years of veterinary experience when she started working at the clinic in October 2019. Her husband, Chris, who is also a veterinary technician, calls her a relic because not many technicians stay in the field as long as she has! Candy and Chris have three dogs, multiple cats, multiple chickens and four horses. In addition, they have three children and six grandchildren – some of whom are next-door neighbors. In her free time, Candy enjoys spending time with her grandkids, riding horses, reading and painting.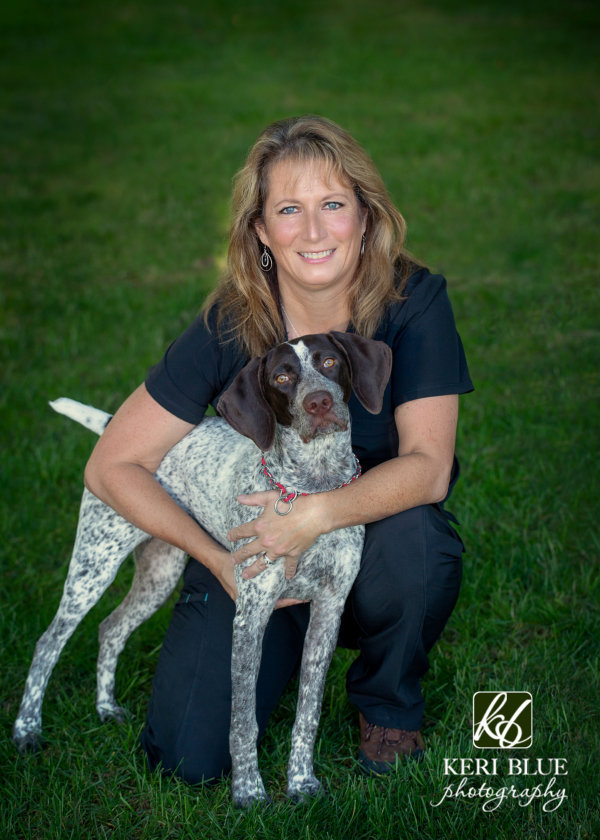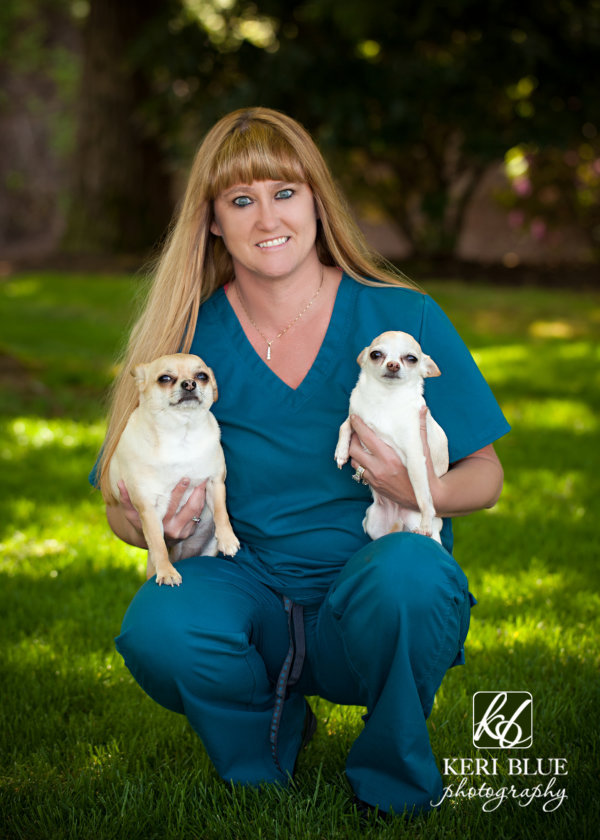 Cindy has been with the clinic since 2000. In 2003, Cindy and her husband Mike took over Companion Grooming next door. She recently joined our staff again in 2011, bringing along her many years of experience working with pets. She has 3 children and soon to be 3 grandchildren. Cindy enjoys fishing and spending time with her favorite chihuahuas Hollee, Samantha, and Peter and their bulldog Josie.
Rocky came to us in October 2013. He is the proud father of two daughters, Sierra and Rylee. He has six dogs, two horses and 11 cows. He enjoys spending time with his family, horseback riding and decorating his house with chicken-themed décor. He also owns a flower shop and a furniture store with his husband, Tim, in Sutherlin.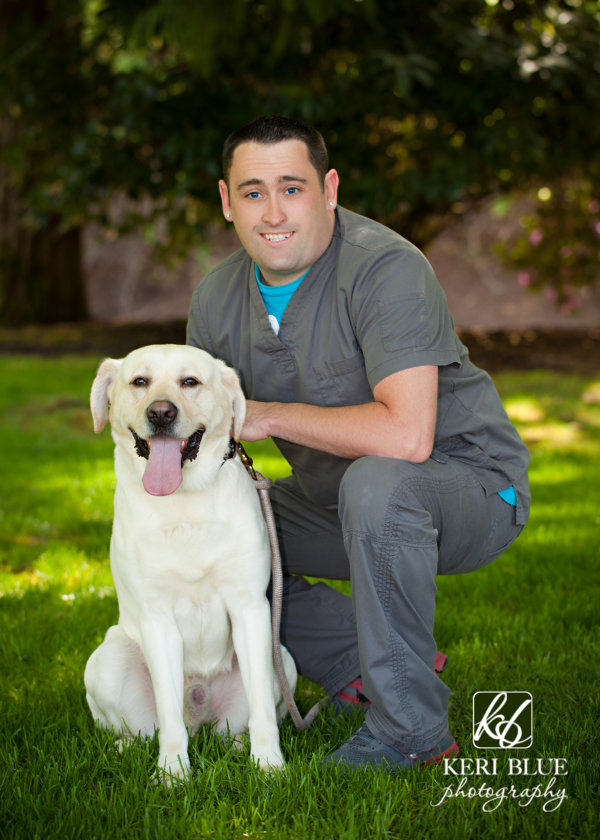 Cintia became part of the clinic staff in June 2019, bringing five years of veterinary assistant experience to her position. Her main passion is for horses, but she and her husband, Aaron, have many different animals on their ranch.  Sharing the property with the couple are chickens, ducks, a goose, a guinea pig named Guapo (which means "handsome" in Spanish) and eight cats. Their five dogs are Hunter, Chi Chi, Lakota, Reba, and Tucker. As for the horses, their names are Jack, Jolene, Maximus, Callie and Cheese.
Cassie joined our clinic in March 2019 and brings great enthusiasm to her work. Cassie earned an associate degree from Umpqua Community College in 2015; she plans to continue her education at Oregon State University. Cassie's pride and joy is her 11-year-old son. The two of them share their home with what she describes as "a pack of crazy fur babies," made up of four cats and two dogs. Cassie loves many aspects of her job, including working with people, caring for their beloved pets and being part of the dynamic clinic staff. During her off-duty hours, Cassie enjoys spending time with her horde, reading, watching movies (anything superhero-related), cooking and spending time outside. A Nebraska native with most family members still living in the Midwest, Cassie says her heart will always stay with her home team (Go, Cornhuskers!).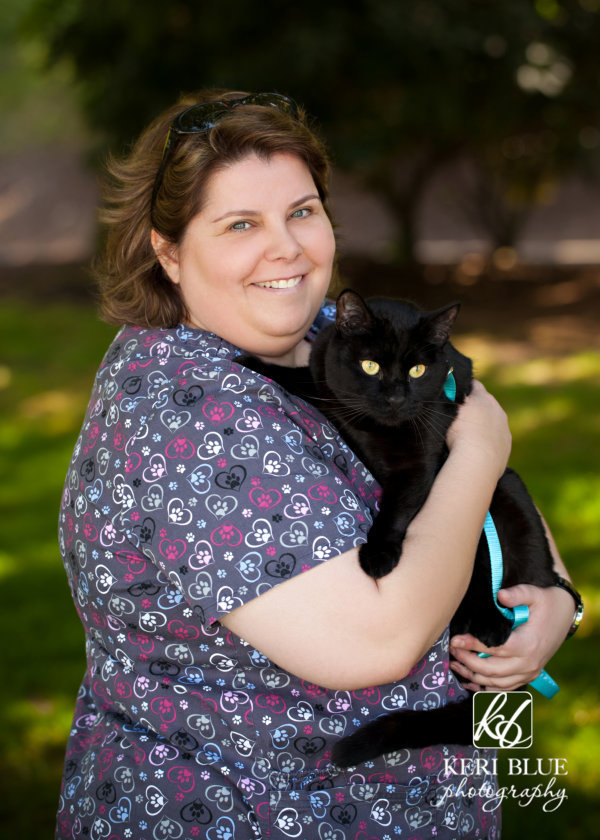 Tami joined our staff in September 2012. She has two boxers, Montana and Zeke and 1 cat named Taz. She spends her time raising her son and going hunting, fishing, camping, riding four-wheelers and shopping! In her spare time, Tami helps her husband of 13 years with his business Day or Night Electric and Construction.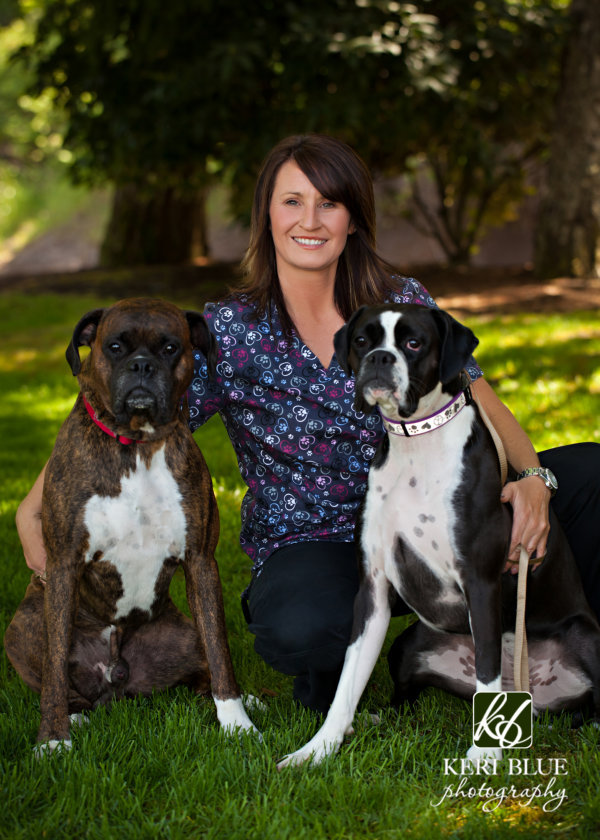 Aurora fulfilled a longtime career goal by joining the clinic in November 2019. Her lifelong love of animals, especially horses, propelled her into the veterinary medical field.  Horses are an important part of her life, and she has three of them – Checkers, Chloe and Jaycee. She enjoys riding and caring for them with her family. Over the years she has taken a large role in raising her nieces, Kindal and Avery. Along with the horses, she has a Heinz 57 dog named Best Friend and a cat called Chamoy. 
Rosie joined the clinic in November 2019, achieving a dream she's had since she was a little girl. Rosie's love of animals came early, as she has childhood memories of watching her local veterinarian perform surgeries. She hopes to become a veterinary technician. She is a proud mom to two sons, Conner and Carter. The family has two dogs, Roscoe and Chloe, as well as three cats named Oliver, Maurice, and Nala. A chinchilla called Dig rounds out the menagerie.
Animal Caretaker/Tech Assistant
Annette lives with her husband and two children on five acres west of Sutherlin, where she cherishes the quiet and privacy. The family has a horse, four dogs, five cats and several hogs and chickens. They are looking forward to adding sheep to the mix. A lifetime animal lover, Annette has lived in Douglas County most of her life. She says she suspects she may drive her husband nuts with her preoccupation with so many critters, but adds he really doesn't mind. She feels blessed with everything she shares with her family, and says she doesn't think she'd change anything. Or at least not much of anything.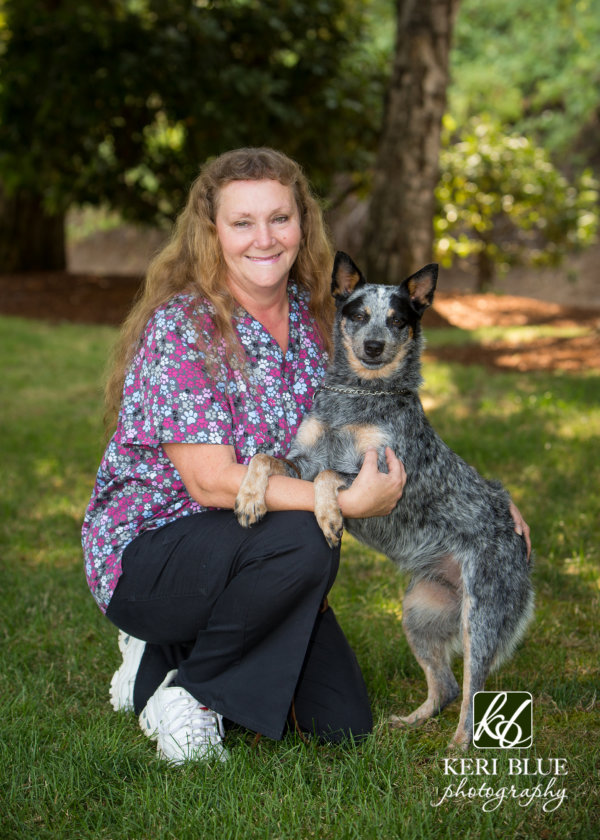 Animal Caretaker/Tech Assistant
Henry joined the clinic family in 2007. He is the top administrator, ruling everyone and everything with a gentle but firm paw. Henry's hobbies include stepping on the receptionists' keyboards, snooping in clients' purses, tearing open bags of food, chewing on forbidden items and watching the staff clean up after the messes he leaves behind. Despite his active curiosity (some would call it being nosy), Henry is extremely mellow and makes friends easily. He is quick to check on other cats who are being vocal in their carriers, just to make sure our feline patients are OK. He also enjoys hiding out in the cupboards or on top of shelves. Be sure to look him up when you stop by!